Obsolete Machinery Removal, Chicago
---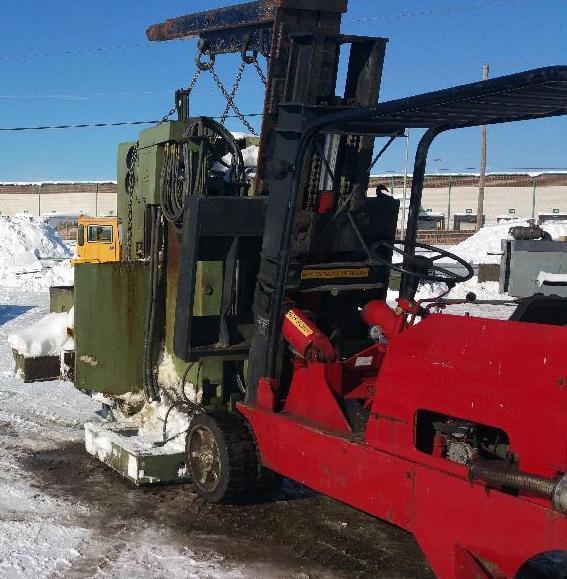 Chicago Machinery Movers is proud to provide a free obsolete machinery removal service to businesses around Chicagoland. Most equipment is removed for free for its scrap value. We know how to safely dismantle complicated and challenging old machinery. We can also clean up entire plants of unwanted machines and infrastructure.
Call Igor at 630-235-6603 to set up an appointment.
Machines removed for free
Small and Large machinery
Liability release/waiver provided
We carry full liability insurance
Environmental Compliance certified and guaranteed
We can remove machines from 100 lbs to 350,000 lbs (based on previous jobs)
We have heavy forklifts, semi trucks and trailers to move a variety of equipment.
Areas Served: Chicago, Addison, Elk Grove Village, Tinley Park, Aurora and many more!
Industries served: Metalworking, Printing, Food Processing, Manufacturing.
Machinery Moving Capabilities
We have:
30,000 forklift (boom and forks)
18,000 forklift (boom and forks)
15,000 forklift
8,000 forklift
Several smaller forklifts
Semi truck with lowboy and flatbed trailers
Straight truck and dump truck
Bobcat skid steer
26 foot scissor lift with 1,000 lbs capacity
Call Igor at 630-235-6603 to get a machinery moving quote. Most likely we can remove your obsolete machinery for free.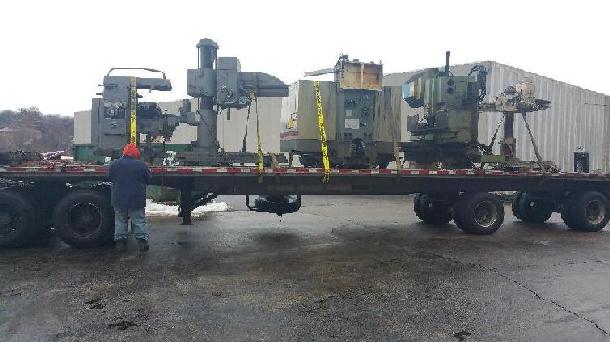 What is involved in removing old equipment?
Removing old equipment is not always difficult, but, most of the time, its owners do not have the capability to remove it properly and need to call for help. Below, I will explain some common issues inherent in machinery removal and how we can help. Removal jobs can be anywhere from 2-4 hours, to 3-4 weeks. We like both kinds of such work and prefer to be done sooner, rather than later.
Developing a plan
For most customers, removal time is of the essence for one of the two reasons: minimizing downtime, or preparing a building for real estate closing. We can develop a plan to work around your production process, so that downtime is minimized and nearby production processes are least disrupted. Plans can range for simple 10 minutes of discussion of where to move machines, to complicated drawings inducating precise paths of machines and equipment, and intricate measurements. We understand that having a production line down makes you lose money every minute, or that not being able to close on your real estate can entail penalties and frustration.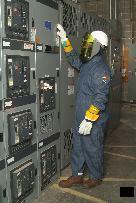 Safety
I have to yet meet a company who would say "safety is job number 2". Safety does not mean working slowly, it means working right. When it comes to old machine removal, safety means complying with OSHA regulations, trucking regulations, environmental and fire codes, in the following areas:
Electrical Safety
Removal of Liquids
Using lifting equipment safely
Working at heights only using approved personnel lifts and platforms
Observing fire safety when torching
Providing everyone with proper personal protection equipment
We know how to do a job safely without incurring excessive costs and overcharging you.
Disconnecting from Utilities
A lot of old, obsolete equipment needs to be not only removed, but also disconnected from utilities such as electrical power, gas, and water. We have trained people who know how to do it. Electrical disconnection is usually the first thing to be done. We know that many old machines may have more than one source of power, which is a common source of trouble. We are trained in LOTO (lock-out tag-out), circuit testing, and have arc-flash protection suits to use when necessary. We can remove unused and orphaned electrical circuits, as required by the NEC (electrical code). Most of the time, electrical disconnection is easy and straightforward due to our experience.
Disconnecting water and gas usually entails locating shutoff valves, shutting them off and properly capping lines. Proper line tracing is essential.
Old soluble oil and coolants need to be disposed properly, and, generally, it is the responsibility of the equipment owner. Usually companies that are going concerns, have procedures and vendors providing cleanup services on a regular basis. Especially in cases of real estate closings, for defunct companies with no one on duty, we can help call in environmental disposal companies.
Moving machines around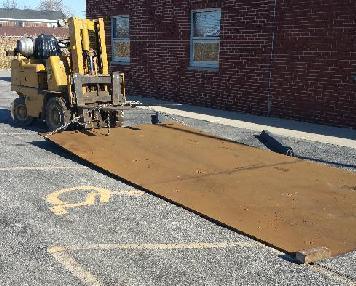 While most machines can be moved as one piece, some need to be disassembled. We once removed a giant printing press, weighing 320,000 lbs, by splitting it into 26,000 lbs sections and moving one section at a time. (see a picture of it at the end of this page)
Some floors and parking lots have poor surfaces and would not survive having a large forklift with a heavy machine on the forks, or the forklifts would get stuck in soft soil. In such a case, we can bring and provide our own street plates.
We all heard the horror stories about items dropped from forklifts, riggers stuck with the machine in the only overhead door that the company had, walls damaged, and so on. This usually happens because the right sized equipment was not selected (forklift too small), and because of poor supervision of the forklift operator, who typically cannot see where he is going, his field of view blocked by the load on the forks. We know how to move large machinery, what equipment to pick for the job, and how to guide the forklift operator.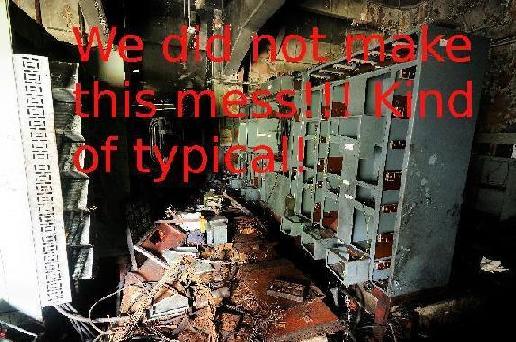 A lot of people neglect to do a proper clean-up after themselves. They leave piles or junk and chips, or bolts sticking up from the ground, which is a trip hazard and can hurt your workers and visitors. We always clean up after ourselves, cut bolts in concrete, and such.
What do we do with old machines
Most old machinery ends up being scrapped and eventually re-melted, as today's marketplace prefers newer, higher productivity machinery. Few businesses want to set up some old cheap machine, only to experience breakdowns, production problems, and OSHA citations. They might end up calling a "machine removal company" again! However, some machinery has parts and components, such as fancy handles and circuit boards, that often have some value and can be sold. We try to salvage them from such equipment, in order to make the removal worthwhile for us.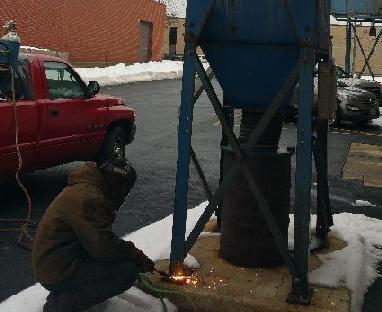 When "free" does not work
Most of the time, "free" is close enough to leave both us and the customer satisfied. There usually are some special cases when "free removal" is not economically sensible, however.
Some companies, such as union shops, have strict rules about selecting union-only contractors, which can be very expensive. In this case, we can pay some amount of money for your machinery, so that our visit is a "purchase transaction" and not "service work".
The second case is when the economic value of the equipment is low, it is hard to remove, and cannot justify a lengthy removal job. An example is removal of a huge old paint booth. This is a rare case, but it does happen. In this case we can discuss a charge for the removal.
The third case is when you want the work done in off-hours, such as on weekends or late in the evening. While we can do it, I always have to pay my guys extra for such off-clock work and this cost would need to be passed over to you.
Call Igor at 630-235-6603 to discuss your project. I know "how the world works", and what companies and managers need when making decisions to dispose of old machines, and how to make you a satisfied customer.